New York City Community Chorus is a non-sectarian community chorus located at 28th St. and 9th Ave. in Manhattan.
Our mission is to restore the joy of singing to day-to-day life, and to heal our community through singing. Since November 1994 we have brought the thrill of singing to hundreds of people, and our concerts have entertained thousands more.
---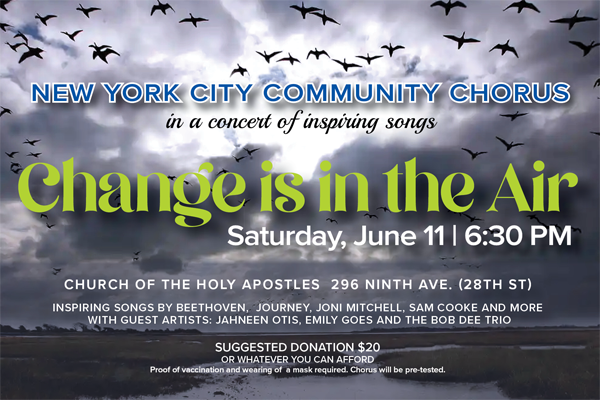 Come hear us sing—it's our first live concert in more than two years featuring songs by Journey, Joni Mitchell, Sting, Beethoven, Sam Cooke and more, with special guest artists and a rockin' band!
Concertgoers must show COVID vaccination proof at the door and wear a mask throughout the performance.
---
LET'S MAKE MUSIC TOGETHER. ALL VOICES MATTER.
We're committed to acceptance and inclusivity. We welcome everyone to sing with our chorus without regard to their experience, talent, race, ethnicity, gender identity, sexual orientation, religious affiliation, physical challenges, or financial resources.
---
Interested to join? Click on the "Contact us" button below.
---

---