New York City Community Chorus is a non-sectarian community chorus located at 28th St. and 9th Ave. in Manhattan.
Our mission is to restore the joy of singing to day-to-day life, and to heal our community through singing. Since November 1994 we have brought the thrill of singing to hundreds of people, and our concerts have entertained thousands more.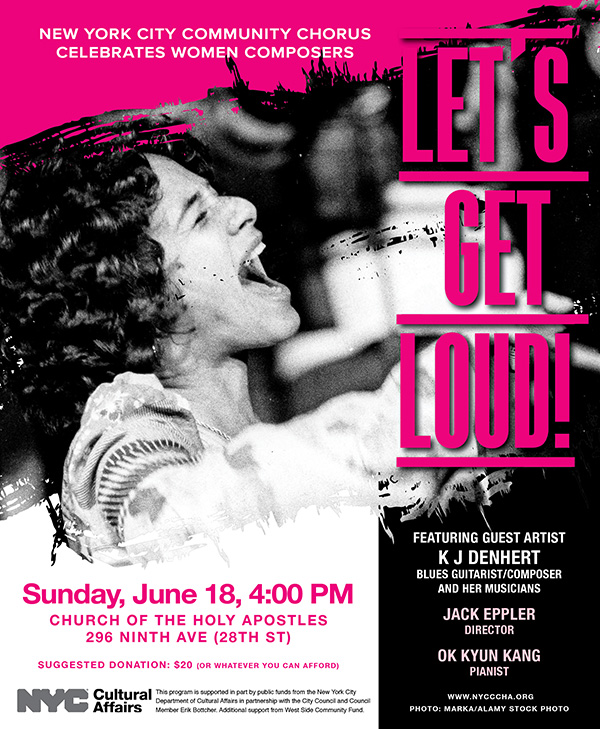 WE HOPE YOU CAN JOIN US ON SUNDAY, JUNE 18th AT 4 PM
To come either in person or via live-stream, CLICK HERE to purchase advance tickets. You can also pay by cash at the door—$20 (or whatever you can afford).
Masking will be optional, with a special seating section for those who wish to remain masked and sit separately.
Our June concert will be all music of women composers. Here's a partial list of some of our composers and songs:
Barbara Strozzi (17th century Venetian)
Laura Nyro – Save the Country
Ellie Greenwich – Do-Wah-Diddy
Sylvia Rexach (Puerto Rico) OR Maria Grever (Mexico)
Amy Winehouse – Rehab
Dolly Parton – Jolene
Katy Perry – Firework
Gloria Estéfan – Let's Get Loud
Rosephanye Powell – E Oru O (Nigerian processional)
Cyndi Lauper – Time after Time
Carole King – I feel the earth move
Carly Simon – Let the River Run
Stevie Nicks / Christine McVie- Fleetwood Mac medley
Madeline Peyroux- Don't Wait Too Long
If you'd like to be placed on our mailing for updates and reminders, HERE.
---
We require all chorus members to provide proof of vaccination. If there is a medical or other reason why you are unable to be vaccinated, you will need to get special permission from the director and take an on-site Covid test at every rehearsal. We also require members to wear a mask, preferably an N95, at all times.
Part-time Executive Director Sought for Thriving Community Arts Group
Advance your career while guiding a beloved neighborhood institution into its next era. Learn more
---
LET'S MAKE MUSIC TOGETHER. ALL VOICES MATTER.
We're committed to acceptance and inclusivity. We welcome everyone to sing with our chorus without regard to their experience, talent, race, ethnicity, gender identity, sexual orientation, religious affiliation, physical challenges, or financial resources.
---
Interested in joining? Click on the "Contact us" button below.
---
---