New York City Community Chorus is a non-sectarian community chorus located at 28th St. and 9th Ave. in Manhattan.
Our mission is to restore the joy of singing to day-to-day life, and to heal our community through singing. Since November 1994 we have brought the thrill of singing to hundreds of people, and our concerts have entertained thousands more.
LET'S MAKE MUSIC TOGETHER. ALL VOICES MATTER.
We're committed to acceptance and inclusivity. We welcome everyone to sing with our chorus without regard to their experience, talent, race, ethnicity, gender identity, sexual orientation, religious affiliation, physical challenges, or financial resources.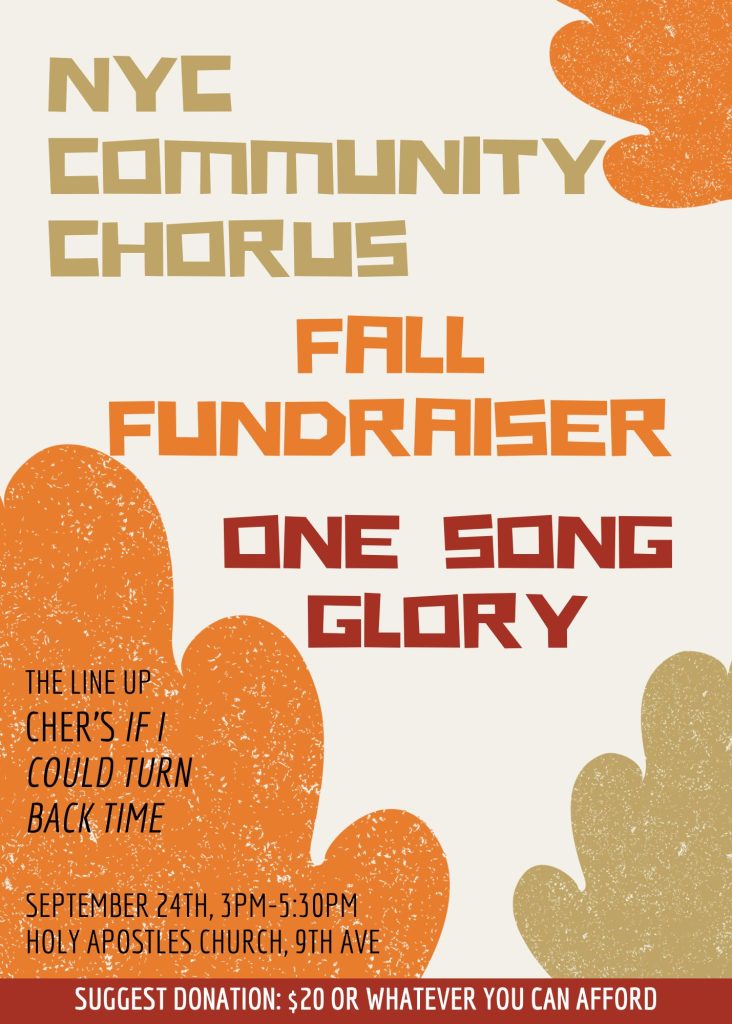 Join us on September 24th from 3:00-5:30pm for our first-ever One Song Glory Fundraiser!
We will be coming together as a community to collectively learn and sing Cher's "If I Could Turn Back Time." We will be singing alongside two professional Broadway musicians, in addition to our Associate Music Director, Ok Kyun Kang.
There will be music, friends, food, and lots of fun to be had. All are welcome to attend and all are encouraged to sing with us.
Your generous gifts are much appreciated, and will be put towards ensuring the Fall 2023 Season runs smoothly, increasing our diversity at the Chorus, improving the quality of our semi-annual concerts, and supporting our network of musicians and artists.
COME SING WITH US!
The first rehearsal for our Winter 2023 concert is Monday, September 11, 6:30 – 8:30 at Church of the Holy Apostles, 296 Ninth Ave. @ 28th Street. Please use side entrance.
Our winter concert, "Divine Ladies," is a celebration of women (by all genders!).
Some of our repertory: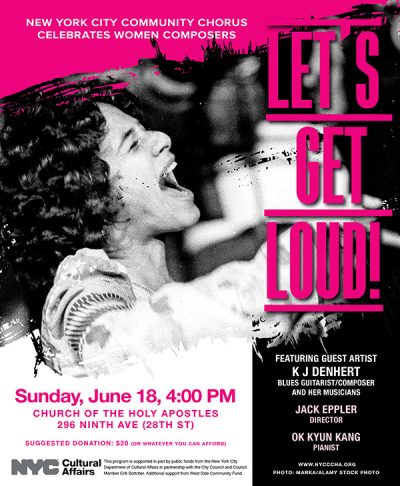 A big thank you to all who joined us for our June 18 concert, "Let's Get Loud," celebrating women composers! You can hear it all on our YouTube channel
COVID POLICY UPDATE
Given what we currently know, masking will be optional at rehearsals for our upcoming season. Also, upon request, we will provide a separate area some distance (6 to 12 feet) from unmasked chorus members for those who feel more comfortable singing apart.