Jack Eppler, Founder and Artistic Director

Jack Eppler asked the Church of the Holy Apostles in 1994 to host a chorus open to anyone in the community without having to audition. The chorus has grown from a handful of people to nearly 100 singers and continues its original mission to restore singing to the day-to-day lives of ordinary people. The chorus has commissioned numerous new compositions over the years, and presents two standing room-only concerts each year.

As a professional chorister, Eppler sang under the batons of Leopold Stokowski, Zubin Mehta, Christoph von Dohnányi, Gerard Schwarz, Roger Norrington, and Kurt Masur, as well as with the New York City Opera. He was bass soloist at the acclaimed Bach cantata series at the Lutheran Church of the Holy Trinity in Manhattan. Operatic roles include Guglielmo in Cosi Fan Tutte with the Young Artists Opera, The Old Maid and the Thief with the Bay Chamber Opera, and Trouble in Tahiti with the Mannes Opera Theatre, all in New York City. He was soloist with the Birmingham (Alabama) symphony in a Porgy and Bess concert.

Eppler's meticulous attention to text has earned him praise as a singer who can be understood. Numerous composers have written for him. His innovative recital repertory stretches from the twelfth through the twentieth centuries. He toured Israel and Japan in Dolmen Music by composer Meredith Monk, and sang the premieres of performance pieces by composer Tan Dun and choreographer Jerry Pearson.

He teaches voice at his Greenwich Village Studio, and is delighted to teach singing to acting majors at the New York University Tisch School of the Arts.
Ok Kyun Kang, Associate Music Director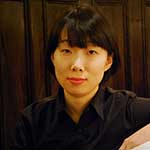 Ok Kyun Kang is a pianist, composer, and music director from Seoul, South Korea who has worked with various ensembles and organizations in North America, Asia, and Europe. As a composer, her works include incidental music for Hamlet at La MaMa Theatre, the chamber opera Sleepy at Moon Theatre in Seoul and the musical Christmas Carolyn at the Cleveland Playhouse. Recent music direction credits include Voyage: Musical Vignettes at the Spoleto Festival in Italy and Dido and Aeneas at the National Theatre of Korea in Seoul. She earned her BM and MM in Music Composition from Yonsei University and her MFA in the Graduate Musical Theatre Writing Program at the Tisch School of the Arts at New York University. Currently she works at New York University and Barnard College/Columbia University as a collaborative pianist.
Sean Manucha, Director of Development & Operations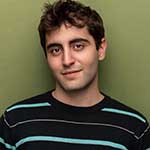 Sean Manucha is thrilled to be helping the Chorus in his role as Director of Development and Operations. Originally from Toronto, ON, Sean moved to New York City to immerse himself in the arts and be right at the intersection of arts and community. Working at the Chorus is right up his alley; the Chorus is an invaluable institution at the heart of the intersection of arts and community. Sean is beyond excited to help out and to see it expand. He holds a Bachelor of Fine Arts degree from NYU Tisch School of the Arts in Drama. Founding Artistic Director of the Chorus Jack Eppler was one of Sean's first professors in freshman year. He is grateful to be collaborating with him in this role now. In his free time, Sean likes playing guitar, singing, talking with friends, cooking dinner, and going on walks.